Strategic Planning (Part 2): The Law of 3s
Summary:
The Law of 3s structure forces an element of simplicity into the strategic planning process
The process begins with identifying three Big Goals for your organization over a three-year time horizon
Step Goals and Actions ladder up to your Big Goals, and provide more immediate direction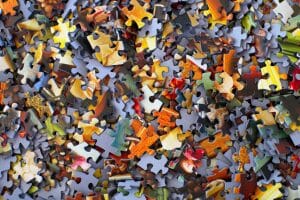 In the previous post in our strategic planning series, we talked about the need to keep your strategic planning process as simple as possible. Now, we focus on the nuts and bolts of developing a strategic plan.
Many of us have participated in countless strategy sessions and experienced many different systems; at inVision Edge, we have found that by far the simplest and most effective model is the law of 3s plan design.
The Law of 3s
The foundation of the model is the acknowledgement that at the end of the day organizations, teams, and employees can't do it all. We work best when we have an intense focus on a few things versus a watered-down focus on many things. The Law of 3s structure forces an element of simplicity into the strategic planning process: if you break the Law of 3s, you'll have too much on your plate and things just won't get done.
Big Goals
The process starts with setting 3 Big Goals. A Big Goal is a broad, long-term qualitative area of focus that is clearly relatable to the organization's vision for the future. Big Goals should drive the strategic planning preparation. An organization should have no more than three big goals as part of its strategic plan; any more than three Big Goals can overwhelm the organization and compromise the success of all goals.
Outlook: Three years
Owner: Executive leadership team.
Step Goals
Each Big Goal should have up to three Step Goals underneath it. A Step Goal is a quantitative, measurable statement that relates directly to the Big Goal. Step Goals should be achievable within a one-year time frame and there should be no more than three Step Goals under each Big Goal.
Outlook: One year
Owner: Leaders and key stakeholders.
Actions
An action is a task or project-based statement that, if executed successfully, will achieve (or help to achieve) the Step Goal it's connected to. An action is specific and focused, and should outline who is accountable and how progress will be measured. Typically, there are up to three actions per Step Goal.
Outlook: One year
Owner: Leaders and employees.
Strategy Clarity
It's about clarity. The Law of 3s structure focuses and organizes the path to clarify what needs to get done and how it will get done.
At a glance, the organization's top priorities are clear. It's simple yet effective, and we've applied it to corporate plans, team or departmental plans, and even personal planning with great success.
Wrapping Up
Remember: done is better than perfect. It won't be perfect the first time you use the Law of 3s, but the more you use it, the better you get. It works. Combine the Law of 3s with a regular rhythm of accountability to bring your plan to life.
This is part two of three in a series of blog posts about the importance of strategy to business. Check out our next post: Find the Groove.
Want to learn more about our proven process for strategic planning and how to implement it within your organization? Check out our free guide "Strategy Clarity" to get all the details