Strategy And Innovation Made


Simple

Effective

Actionable
Change is happening fast.
It's Harder Than Ever to Achieve Ongoing Results, Leading to the Frustration of Missed Growth Potential
When your organization lacks a strategy and the ability to innovate, you:
Won't realize the results you're capable of

Will fail to respond quickly to big challenges and opportunities

Will have teams focusing on the wrong priorities
Take the guesswork out of your organization's future.
inVision Edge's consulting services have helped many of Canada's leading organizations build strategies, innovate with confidence, and achieve tangible results. Let us help you too.
We work alongside our clients to accelerate their organizations using a simple, proven framework.
Assess Your Needs
Book a call with us and we'll help you clarify your biggest challenges and opportunities. Then we'll identify where we can provide support.
Plan for Success
We'll work together to design the right plan that focuses on your greatest opportunities, providing you with a roadmap for success.
Execute with Confidence
Together, we'll execute the plan and generate results to help you achieve your short-term and long-term goals.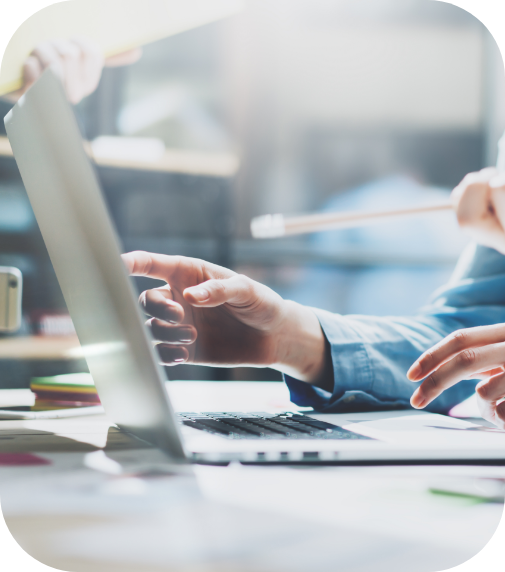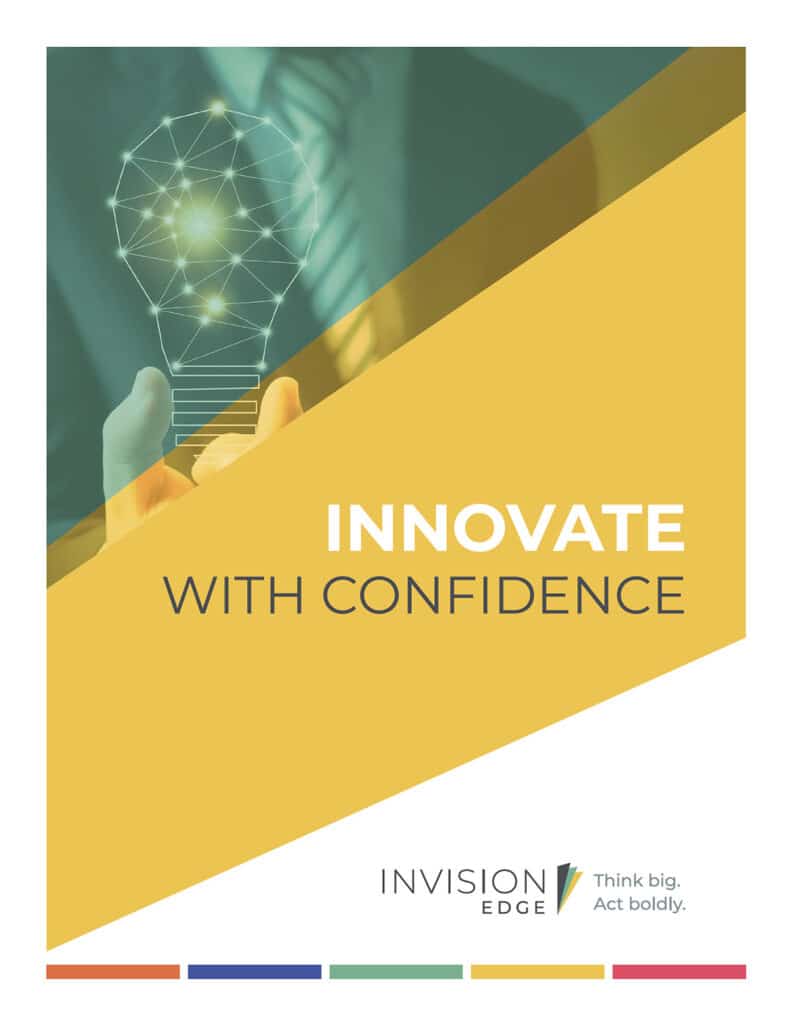 The speed of change is consistently increasing year over year. Innovation is the key to getting ahead of change and harnessing it for your benefit.
Want to learn more about our proven process for innovation and how to implement it within your organization? Download our free guide "Innovate with Confidence" to get all the details.
Measure Your Current State
Looking to become the leader in your industry? Assess your organization's current state to see where you might need improvement and see how we can help.
Our Growth Blueprint Assessment is here to help organizations measure their current state of innovation readiness in connection with their strategic goals and capability for long-term growth.
Success comes down to three primary components: having a clear strategy, getting everyone on the leadership team on the same page, and using an innovation system to bring new ideas to life in a systematic way.
OUR SPECIALISTS PROVIDE FACILITATION, TOOLS, AND COACHING IN two focused AREAS:
With our strategy consulting services, you can rapidly design and execute a strategic plan that catapults you into the future. Our proven strategy planning model focuses on three areas: Strategy Readiness, Plan Design, and Strategy Execution, guiding you through the toughest parts of strategic planning from end to end. We make the hard parts easy, efficient, and actionable. Let us work with you to create a strategic plan that translates your long-term vision into tangible goals.
With our innovation consulting services, we can help you bring your innovative business ideas to life. Our expert coaches will teach you how to innovate with confidence, providing you with the tools and systems you need to succeed. We help lift the fog that often surrounds innovation. Let us work with you to create a clear path forward and achieve the results you've been dreaming of.
80% of clients become repeat clients​
Rated 5 stars on Google
World-class Net Promoter Score​
inVision Edge is a world-class boutique strategy & innovation consulting firm that helps organizations build strategies, innovate with confidence,
and achieve results.
Our expert coaches are passionate about helping organizations do great things through dedicated support, proven systems, and accessible resources that take organizations to new heights.
Reduce Complexity​
Lift the fog around strategy and innovation with proven, repeatable processes ​
Design Effective Strategies​
Develop resilient strategic plans that are designed with execution in mind​
Innovate
Faster​
Learn to apply a reliable system that drives innovation at all levels of your organization​
Stay on
Course ​
Leverage support from experienced coaches to guide you throughout your journey​
Working with inVision to implement their strategic planning framework has helped us focus on the biggest opportunities for growth: products that bring value to our existing customer base, identifying new markets, clarifying our measures of success, and aligning our teams to execute our complete commercialization process and strategy.
It was easy to bring inVision into our business and help us…it was never overwhelming, and always feels like we are dealing with someone who works with us, versus a larger consulting firm that is more about hours charged. They make a very personal investment in our success. A great fit with our culture.
Rhonda was wonderful and engaging. She kept the groups on their toes, knew how to dig deep with us, and reigned us back in when we were in the weeds. She was the ideal facilitator - friendly but hardcore!
Ryan is a strong presenter. He knows when to push execution-focused discussions, and when, based on the 'current temperature,' it's not yet time to push further. This makes it very easy for me to be honest with him about where challenges lie.
inVision Edge was professional and very helpful. They want to leave you fully satisfied with the results of the exercise.
Check out our latest strategy and innovation articles, case studies, insights, and more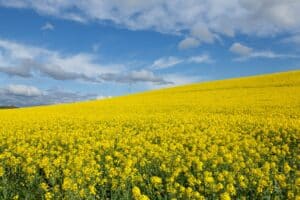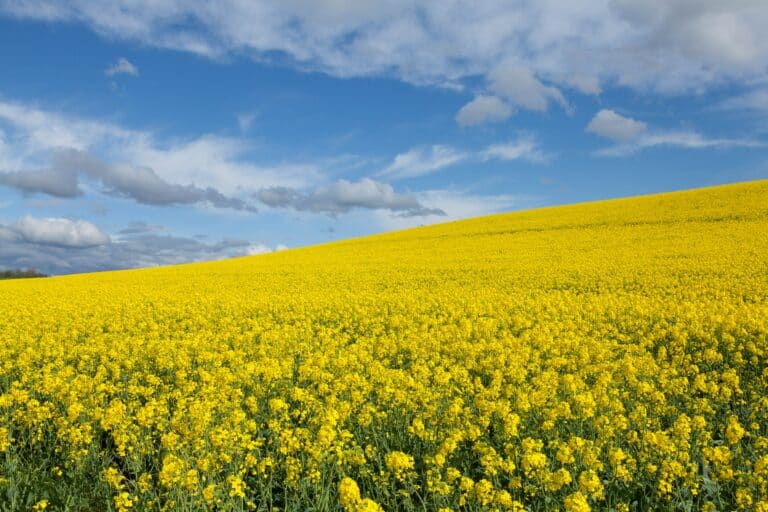 Case Studies
The Manitoba Canola Growers Association (MCGA), a seasoned non-profit representing canola farmers, joined forces with inVision Edge to drive strategic revitalization. Through a workshop, MCGA clarified its mission, set objectives, and identified hurdles. This resulted in a three-year plan that improved team alignment, reduced costs, and ensured consistent messaging. MCGA's adept incorporation of their vision into all operations secured ongoing growth and industry leadership.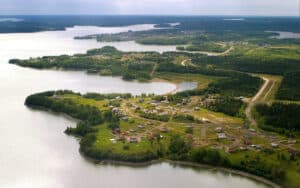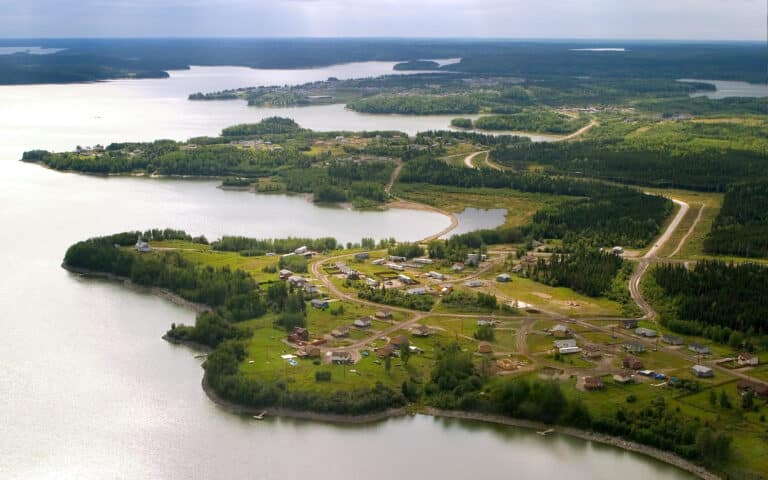 Case Studies
Facing the challenges of transitioning from a past plan, Nisichawayasihk Cree Nation partnered with inVision Edge to craft a clear and actionable strategic plan. Overcoming complexity and embracing a focused approach, they aligned on three major goals with supporting steps for the next five years. This collaboration not only charted a path towards self-sufficiency and self-determination but also exemplified the power of strategic planning in shaping a prosperous future for Nisichawayasihk Cree Nation.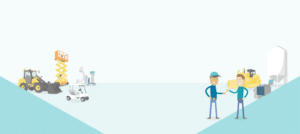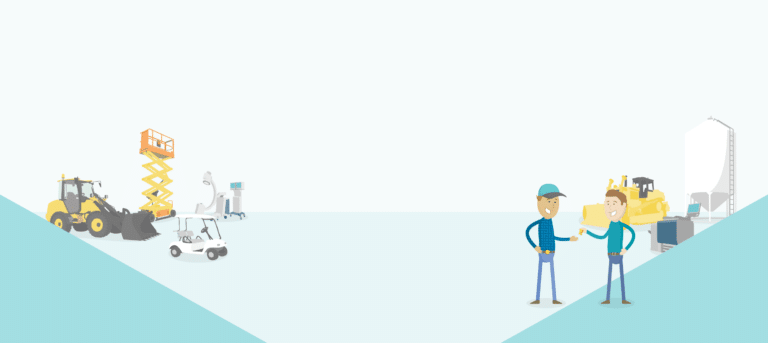 Case Studies
CWB National Leasing, Canada's largest equipment financing company, faced a challenge in sluggish response times for quotes and approvals, hampering agricultural industry clients where downtime costs $7,000 per day. Collaborating with inVision, they revolutionized their approach. The result? The NLi Quoting Portal, an award-winning platform delivering financing quotes and applications within seconds, accessible on any device. This innovation transformed the financing landscape, offering swift solutions to urgent client needs.