Summary:
As a recession approaches, organizations need to protect themselves by any means possible.
Organizations with a clear purpose grow faster and achieve more results than those that don't.
Having a clear purpose won't be the deciding factor for your organization during unsteady market conditions, but it will drastically increase your chance of success.
How can a business protect itself from unsteady market conditions? Unfortunately, there's chatter of a recession on the horizon, and as we prepare for what that will mean to our organizations, we begin to batten down the hatches. To some, this might mean cutting the fat and leaving a skeleton crew behind to man the ship. We've seen stories like this in the news recently, with layoffs announced by large tech companies like Shopify. But what if cost-cutting wasn't the only option to survive – or thrive – in the storm?
An Organization's Purpose
We define purpose as an organization's meaningful and enduring reason to exist. It aligns with the long-term financial performance, provides a clear context for daily decision-making, and unifies and motivates relevant stakeholders. 
In short, it clearly outlines why the organization exists. For example, inVision Edge's purpose is to help organizations do great things by making strategy and innovation simple, effective, and actionable. It's a clearly articulated goal and emerges from the intersection of four questions:
What is the company uniquely good at?

How can the company create economic value?

What are people at the company passionate about?

What does the world need?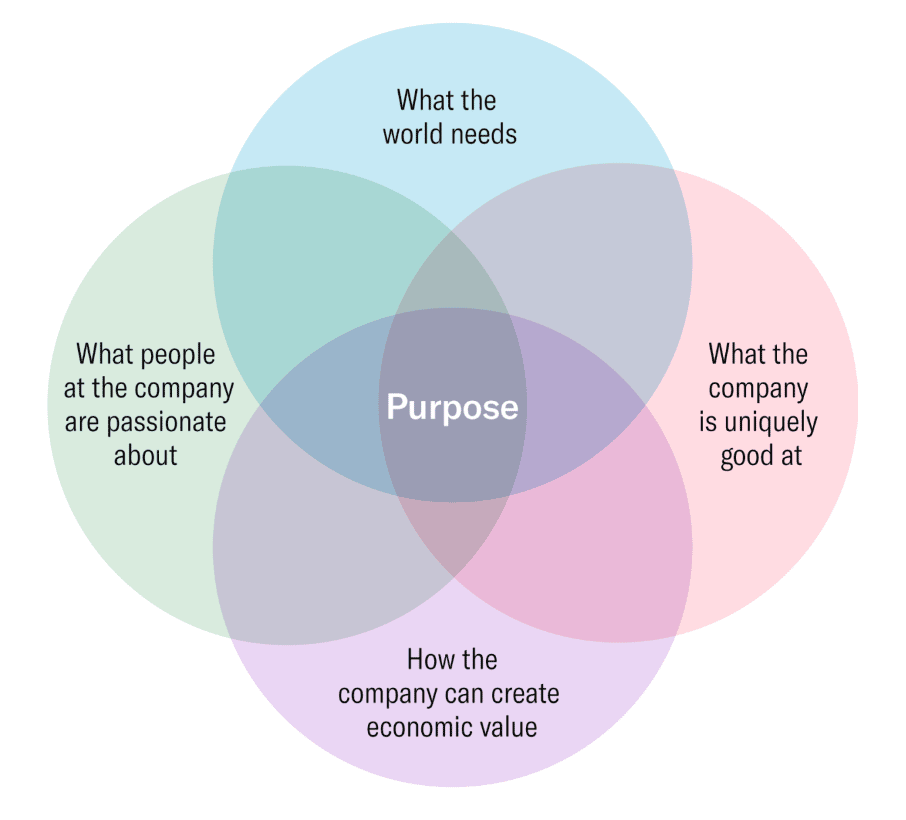 To determine your purpose, create a Venn diagram with these four questions and begin writing down answers within the circles. Group answers as they relate to each other and identify overlapping ideas. Eventually, you should come up with a single theme.
Recession-Proofing Your Organization
A clearly defined purpose alone will not save an organization from the impacts of a recession. During times of calm, a clear purpose will help a business flourish, creating the focus needed to achieve big goals. In a recession though, a clear purpose will reduce the risk of having to retract — to abandon parts of our ship that will drastically affect how (or if) we bounce back. Here are a few examples of how an organization will be better protected:
Employees want to work for a company that makes a difference.
In a world full of social injustices, climate change, and never-ending news streams, employees want to feel empowered in any way they can. One of those ways is working for a company that they perceive as "good" and offers them fulfillment. They want to align themselves with something that makes a difference. In the current hiring market, a clearly defined purpose might give you a leg up on the competition. In a recession, current employees are more likely to remain with your organization if they feel aligned with your organization's purpose and know they're doing something of value.


Consumers look to align their values with the brands they purchase from.
Gone are the days when a consumer chooses a product simply based on efficacy. Now, they expect brands to take a stand — to do more than just make money but to positively impact society as well. Female Colonel Sanders, the Dove Real Beauty campaign, and Nike's partnership with Colin Kaepernick are all examples of brands tackling social issues in an effort to show customers their values. In a world full of limitless options, an organization's purpose is enough to make them stand out.


Society holding companies responsible.
Society has been making some big changes over the last few years. Focus on green energy, reducing single-use plastics, and introducing diversity training have all been top of mind. Organizations that show these values as part of their process are more likely to be accepted and held higher in public opinion.
Let's take a look at some stats from the Harvard Business Review. According to the graph below, companies with a clear purpose grow faster than those that don't, meaning they will be better equipped to deal with the impacts of a recession. A purpose will drive strategic decisions, which will help guide efforts in planning for and thriving through a recession. Not having a clear purpose may result in panic!
We can also see that companies with a well-defined purpose are more successful in executing mergers and acquisitions, expanding geographically, and engaging in major transformation initiatives, as seen in the image below. It also makes you more appealing to consumers (which we've discussed above).
Having a clear purpose alone will not be the make or break for your organization during a recession, but it can drastically increase your chances of success. It may seem daunting to start, but it's likely you already have the bare bones — now you just need to put them together in a sentence.
As we look forward to an uncertain future, your organization's purpose should be the one thing that's never in doubt. 
Five questions you can ask to determine if your purpose is at the core of your strategy:
Does purpose contribute to increasing your company's growth and profitability today?

Does purpose significantly influence your strategic decisions and investment choices?

Does purpose shape your core value proposition?

Does purpose affect how you build and manage your organizational capabilities?

Is purpose on the agenda of your leadership team every time you meet?